MARINE
Intermodal Handling & Transfer Facility
INTERMODAL HANDLING & TRANSFER FACILITY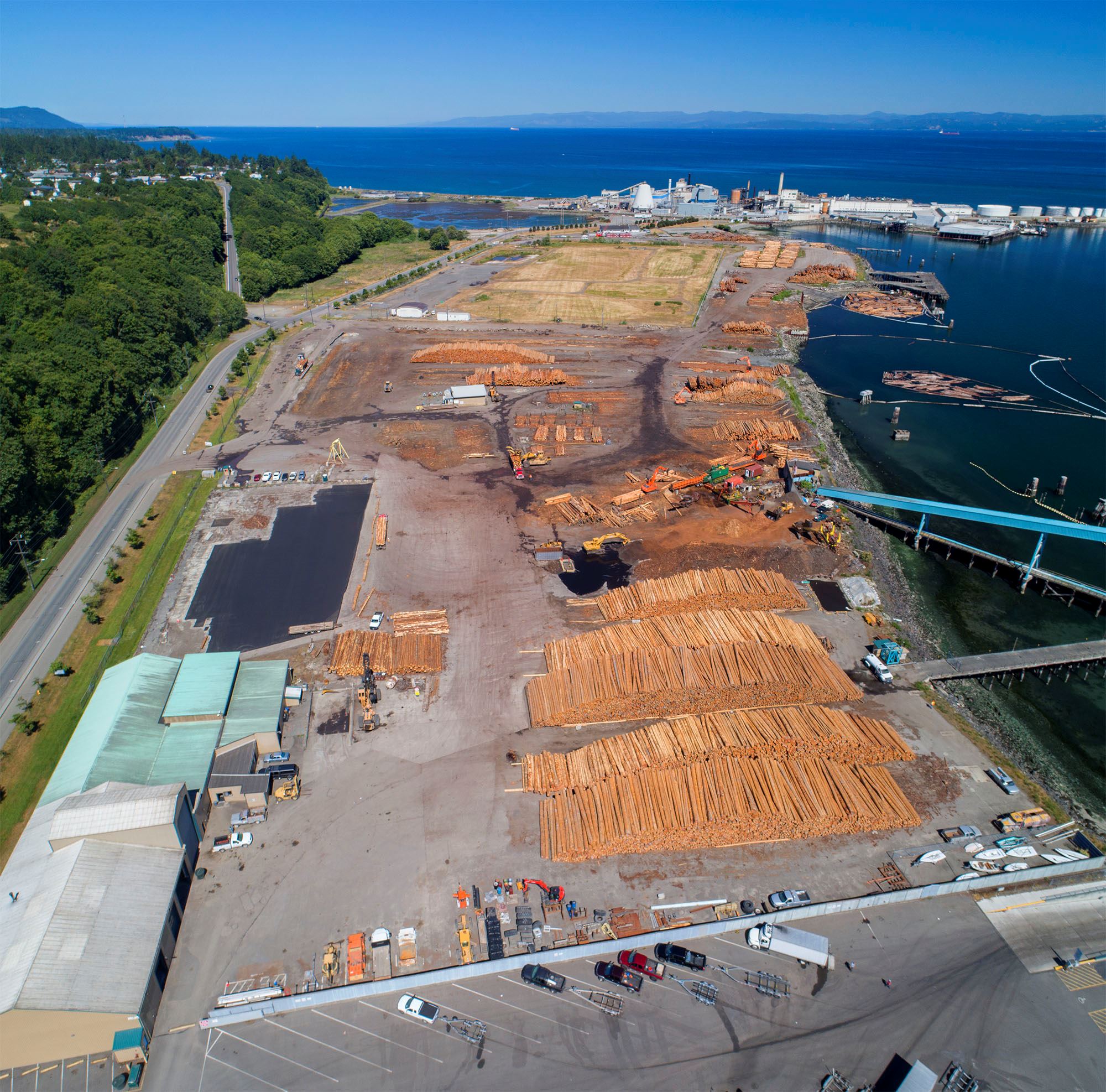 Overview
Over the years, the Port has become a global hub for the movement of forest products from both local and non-local sources to domestic and international markets. With one of the best deep water ports on the west coast, Port Angeles, Washington is the center of log handling, storage, and exporting in Clallam County.
The Port's full service log yard handles an average volume of 60.5 million board-feet of logs per year. Logs from Clallam County forests are shipped to mills in Puget Sound and west coast destinations by barge, as well as to markets around the Pacific Rim. Logs originating from Alaska and Canada reach American markets by traveling through the Port.
Right on busy shipping routes, the Port of Port Angeles is a valuable and efficient resource for log and lumber traders all over the world. A skilled labor pool works closely with Port personnel to get the job done right, safely and on time.
Services
The Port of Port Angeles is a full service facility for all timber products. From cargo loading, storage, roll-out, sorting, and transport, the Port of Port Angeles is well equipped. Easy, ample access and modern efficiencies, coupled with a skilled labor pool, keep the Port on top of on-time delivery of materials and services. Services include:
Banding
Decking
Round Booming
Rafting
Rollout Scaling & Sorting
Reloading
De-watering Inbound cargo
Container loading
Location
Location: West end of the Port Angeles Boat Haven
Latitude 48° 07' 44.791986" N; Longitude 123°27 ' 24.807544 W
Use: Trans-loading, container loading, land and water storage, readying logs for destination
Services: Potable water, lights, power (110V, 220V, 440V), garbage
Storage: Port log yard marshaling area for log dumping / rafting surge area
Equipment
The Port of Port Angeles offers modern, well-maintained equipment to transfer, store, load, and ship logs efficiently, safely and on time. Handling equipment includes:
Four shovels
Two hydraulic wheel loaders
Five log stackers
Three forklifts
Three boom boats