William R. Fairchild Int'l Airport (CLM) Facilities & Services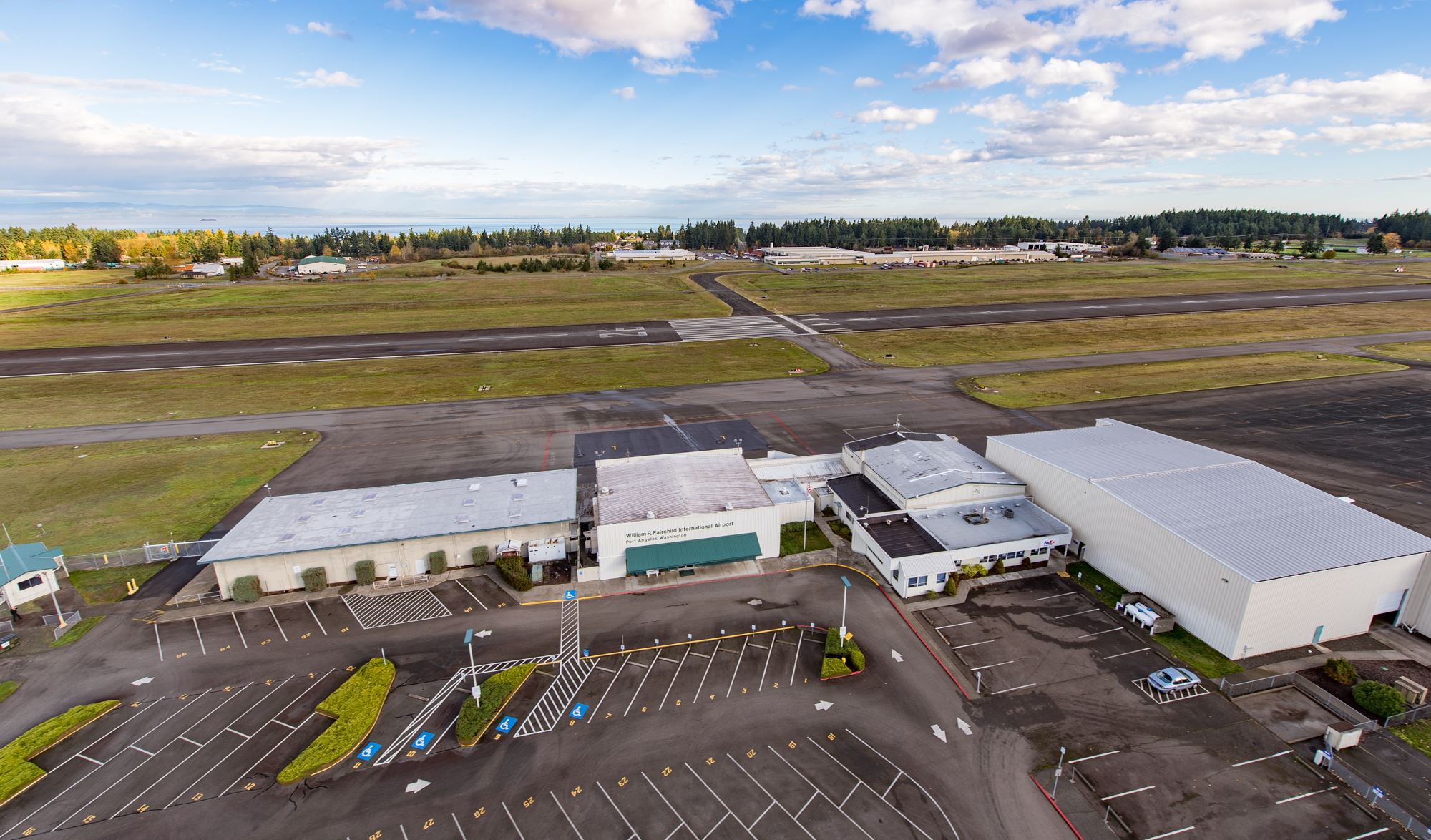 Terminal Building
The terminal building at Fairchild International Airport is a 5,000-square-foot facility, including airlines operations offices, ticket counters, and a baggage claim.
Hangars, Sheds & Tie-downs
William R. Fairchild International offers 64 T-hangars and T-sheds. The aviation parking area is 18,600 square yards in size with tie downs for 36 aircraft on the eastern ramp and for 30 more west of the terminal.
Terminal Building Public Meeting Room
The Terminal Building public meeting room is 24' x 28' in size (672 Sq. Ft.) that seats up to 30 occupants for meetings or business events. The room is in the northeast corner of the terminal facility overlooking the airport tarmac and runway to the north and often provides views of incoming and departing aircraft.
Location – 1402 Fairchild Airport Road.
Available hours – 10:00am to 5:00pm daily.
Restrooms – Available in the terminal building.
Parking – Ample free parking in the terminal parking lot.
Food service – You may cater your event or supply food and beverages on your own.
Fee – $25 per day
Rite Bros Aviation
1402 Fairchild Airport Road / Port Angeles, WA 98363
Phone: 360-452-6226  /  Toll Free: 800-430-7483
Aircraft Maintenance
Rite Bros Aviation provides maintenance services to both private and commercial airplanes. They have been providing reliable aviation service in and around the Pacific Northwest for more than 30 years.
Charter Flights
Rite Bros Aviation provides charter flights, flying on demand rather than by a set schedule. Charter flights are available to and from all US and Canadian communities in the northwest. They offer pick-up and drop-off service at Sequim and Port Townsend, air taxi and stand-by (for meetings or medical appointments). Rite Bros also offers scenic flights over the region.
Fuel
Fuel and fueling services at William R. Fairchild International airport are provided by Rite Bros. Please call for prices and information.
Flight School
Rite Bros Aviation provides flight training for the experienced pilot or the novice. For information about flight school services and rates, please call their office.
Transportation
Car Rentals
Car rentals are available through Budget Rent a Car and Enterprise Rental Cars. Budget Rent-a-car has a rental facility on-site at the airport. (Phone: 360-452-4774). Enterprise's office is located at 902 East First Street in Port Angeles (Phone: 360-417-3083).
Public Transportation
Clallam Transit makes regular stops at William R. Fairchild International Airport throughout the day. For more information on fares and routes check out the Clallam Transit website.
Shuttle Services
Shuttle services are provided by both Rocket Transportation and Olympic Bus Lines. Please contact these shuttle services directly to coordinate your transportation needs. Rocket Transportation (Phone: 360-683-8087 or 877-697-6258). Olympic Bus Lines (Phone: 360-417-0700 or 800-457-4492)
Taxi Services
Taxi services are available in the area, including: Blue Top Cab (Phone: 360-452-1717) or Sun Taxi (Phone: 360-683-1872).
Airport-based Businesses
Angeles Communication provides voice and data services since 1989. (Phone: 360-4547-4375)
FedEx provides shipping services world-wide from the William R. Fairchild International Airport.  (Phone: 800-463-3339)
Life Flight Network provides ICU-level care during air transport across the Pacific Northwest, Intermountain West, and Alaska. (Phone: 800-232-0911)
Customs and Border Protection
The Port of Port Angeles does all it can to fully cooperate with area agencies to ensure security and provides facilities for customs and border protection at William R. Fairchild International Airport. Whether traveling here from another country or returning home, you must contact the correct agencies and border protection at least 24 hours prior to arriving at the dock or the tarmac. Customs will provide you with a window in which you can arrive to be processed by customs and border protection.
Agencies
United States Customs 360-457-4311
Customs After-Hours 800-562-5943
Immigration 360-457-7414
Border Patrol 360-452-5970